DUPLO
ZOO





TOWN
no. 2654 Police Dispatch (circa 1991)




no. 2690 LEGO DUPLO Fire Chief (circa 1995)





AIRPORT
2676 LEGO DUPLO Bertie the Little Red Plane (circa 1993)




PLAYHOUSE
no. 1540 LEGO DUPLO Betsy's Bedroom (circa 1993)





no. 2551 LEGO DUPLO Grandma's Kitchen(circa 1992)





no. 2553 LEGO DUPLO Patty's Pony Stable(circa 1993) ???




no. 2787 LEGO DUPLO Sleepy Dreams Nursery(circa 1993)






ANIMALS
no. 2616 LEGO DUPLO Mini Safari (circa 1995)





TUBES
no. 2223 LEGO DUPLO Tubular Wheels (circa 1998)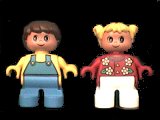 WESTERN
no. 2437 LEGO DUPLO Sheriff Jake (circa 1998)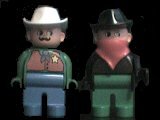 no. 2432 LEGO DUPLO Chief's Family (circa 1998)







TRAIN
no. 2745 Deluxe LEGO DUPLO Battery Cargo Train





WINNIE THE POOH
no. 2987 LEGO DUPLO Fun in the Hundred Acre Woods (circa 1999)




In search of discontinued LEGO sets? Try eBay!